Winnipeg, July 8, 2022 - June is the fourth consecutive month with increased MLS® sales in a year where the spring market has seen a delay when comparing the same months in previous years.
The 1,797 sales transacted in June 2022 decreased 7% and 5% respectively from the two previous years and are up 3% over the 5-year average for this month. New listings of 2,867 increased 21% over June 2021 and are up 9% over the 5-year average. The strong uptick in June listings leaves a month-end inventory of 3,477 listings, a 25% jump over the same month last year.
"Listings came on strong in June and are having a positive impact on loosening up what has been a supply-challenged market," said Akash Bedi, 2022 president of the Winnipeg Regional Real Estate Board. "More choice and options for buyers settled down in what has been a rising price environment where the single-family home average sales price in June fell back to $426,000 from over $450,000."
Other indicators of the pace of buyer activity coming off previous month highs is above-list price for single-family home sales tracking at 54% in June compared to 64% in May and 67% in April. Conversely, 37% of June sales were under list price versus 25% in April and 28% in May.
"While all indications are that we are still in a seller's market, a shift is happening where buyers have more choices from higher amounts of inventory and sellers will have to be more realistic about their expectations on prices." said Bedi.
In June, four of the six MLS® zones the Winnipeg Regional Real Estate Board tracks for average single-family home prices were under $400,000, one was between $400,000 to $500,000 and Winnipeg's southwest area zone remained over $500,000 at $539,752. In May we had two more MLS® area zones over $400,000 and the southwest area zone was $582,387.
It is important to restate that at the end of 2021, the average single-family home sales price across all MLS® areas, including our large regional area outside Winnipeg, was just under $380,000, so we are still seeing a double-digit price increase for 2022 when compared to last year.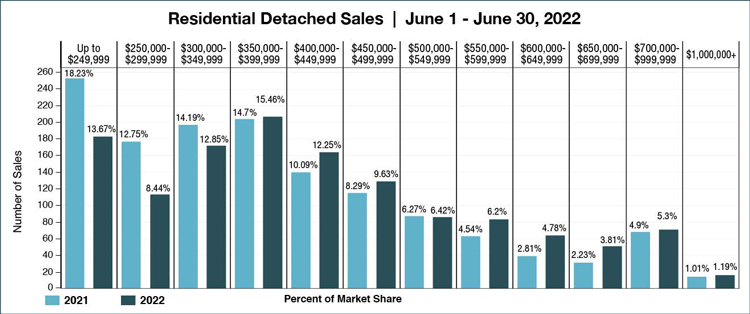 Year-to-date MLS® sales of 8,052 are down 21% from 2021 but up 5% over the 5-year average. Exceptionally brisk sales for the first six months last year with the two best sales months in the Winnipeg Regional Real Estate Board's history at more than 2,000 sales each in April and May. Dollar volume of $3.1 billion is down far less in comparison to 2021 at 8% due to higher sales prices this year.
Comparing the first half of 2022 to the same period in 2021 shows differences considered more normal in terms of having listings to sell going into the summer.
Here are some examples of 2022 single-family listing inventory for specific MLS® areas at the end of June with 2021 in brackets. Waverley West - 60 (36), Riverview - 8 (1), Tuxedo - 21 (7), Island lakes/Royalwood/Bonavista - 20 (5), North Kildonan - 26 (12), West Transcona - 13 (4), Amber Trails - 24 (4), Woodhaven/Silver Heights - 24 (4), RM of Springfield - 35 (16), RM of Ritchot - 44 (26), RM of West St. Paul - 31 (16), Steinbach and surrounding area - 107 (60) and Morden/Winkler - 122 (87).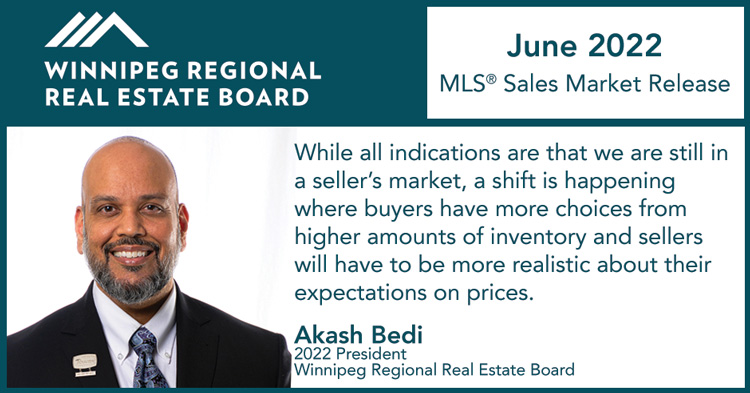 The conversion of single-family listings to sales in the first six months of 2021 at 83% has dropped off to 72% in 2022. The St. Norbert MLS® area is the only area this year to rival West Transcona and the RM of Ste. Anne in 2021 which were selling out everything that came on the market including listings carrying over from the previous year and sold a few more listings than it did in 2021.
"The breakneck pace in 2021 slows down in the second half of the year in comparison to 2020 which was the start of the pandemic real estate surge," said Bedi. "2022 was never predicted to equal 2021 but is performing well in comparison to other previous years."
Property types including single-family are well off the record-shattering sales pace set in 2021, condominiums are faring better with 10% fewer year-to-date sales. June 2022 recorded 229 sales, down 3% from the same month in 2021 and up 22% over the 5-year average.
Condominiums also saw real strength in upper end market activity in June with 13 sales over $500,000 compared to 5 in 2021 and one selling for $1,200,000. Two MLS® areas to highlight this month are River Park South and Linden Woods where there were as many or more condo sales happening in comparison to the available listings at end of June.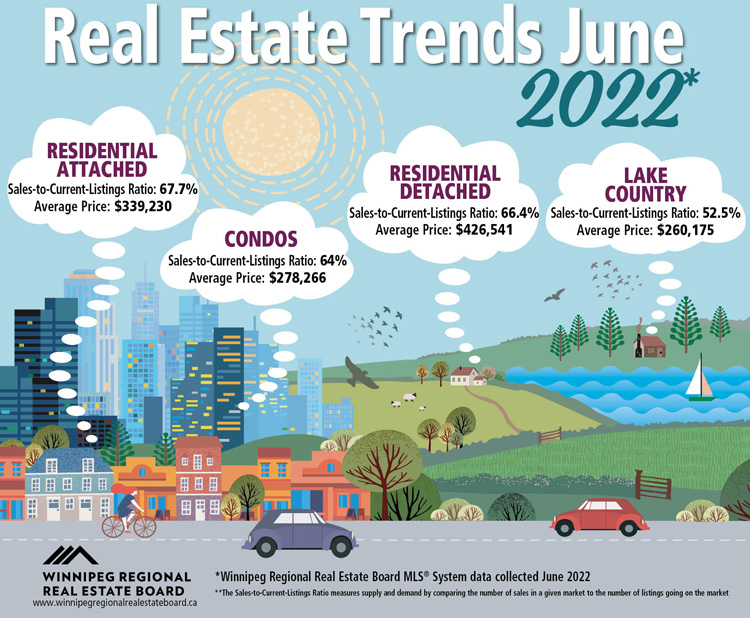 "Condominium year-to-date conversion of sales-to-listings of 72% are equal to single-family homes and that is a first as they have never been close in previous years," said Bedi. "This improvement in condominium conversions shows buyers are looking for alternative property types despite single-family remaining by far the most dominant in listings and sales."
"REALTORS® have their pulse on the current housing market and offer both buyers and sellers objective advice on what they can expect with respect to prices," said Marina R. James, CEO of the Winnipeg Regional Real Estate Board. "Accurate pricing is achieved through your REALTOR®'s ability to interpret all the MLS® market information and external factors such as rising interest rates."
-30-
The Winnipeg Regional Real Estate Board is a not-for profit corporation founded in 1903 by a small group of real estate practitioners. Today, as one of Canada's longest running real estate boards, the Winnipeg Regional Real Estate Board serves over 2,400 licenced real estate Brokers and Salespersons, along with other industry related professions in and around the Winnipeg Metropolitan Region providing them with essential resources to enhance professionalism, advance the industry's development and enrich the communities they serve. The Winnipeg Regional Real Estate Board is the collective voice for both its residential and commercial REALTOR® Members and operates under the direction of an elected voluntary Board of Directors.
The MLS® is a co-operative real estate selling system operated and promoted by the Winnipeg Regional Real Estate Board that includes an up-to-date inventory of listings from participating REALTORS®
The trademarks MLS®, Multiple Listing Service® and the associated logos are owned by The Canadian Real Estate Association (CREA) and identify the quality of services provided by real estate professionals who are members of CREA. The trademarks REALTOR®, REALTORS® and the REALTOR® logo are controlled by CREA and identify real estate professionals who are members of CREA.
Media Inquiries:
Peter Squire
Vice-President External Relations & Market Intelligence
Winnipeg Regional Real Estate Board
psquire@wrreb.ca
Office: 204-786-8857