WINNIPEG - Citizens Hall of Fame Chair Rick Preston is pleased to announce the installment of individualized QR codes for each inductee on their respective pedestals in Assiniboine Park. There is also a bronze QR code on the main entrance granite piece and by using your QR Reader application on your smart phone it takes you directly to winnipegfame.ca.
"Our inductees are very accomplished and distinguished citizens so to try and describe what they have contributed to our city on a small plaque is impossible," said Preston. "With QR codes on each inductee pedestal, you can now pull up on your smart phone or tablet the web page dedicated to each inductee. There are also links on many of these inductee web pages to organizations and causes they have been prominent in if not responsible for their initial establishment and success."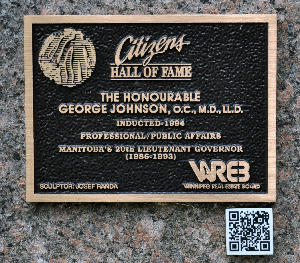 The QR code is a form of a two dimensional symbol that stores far more information than normal bar codes. They can be read with free QR reader apps available for download on your smart phone or tablet. The newly installed QR codes can be found just underneath the existing bronze plaques for each inductee. They measure 1.5" square and are made of a porcelain enameled bronze. They were designed to mesh this current technology with the classic look of the stone and bronze, already in place.
One of the real enhancements to the Citizens Hall of Fame site as a result of installing the QR codes is to facilitate and encourage tours. The guides will now have key information on the program and inductees at their fingertips so can respond if need be to any questions that may arise. Not all of the 38 inductees are household names. Visitors may want to know what these inductees did to be recognized in such a unique program which permanently recognizes them through the commissioning of a bronze portraiture and its placement in a terrific setting in Assiniboine Park (southeast corner off Corydon Avenue).
Whether it is Terry Fox, Nellie McClung, former Mayor Bill Norrie, Carol Shields, Israel Asper or a Leo Mol, when you are in front of the likenesses of these outstanding citizens, more information is only a click away.
Established in 1986 by WinnipegREALTORS®, the Citizens Hall of Fame is a unique program honouring outstanding citizens who brought recognition to our city or have made outstanding contributions to Winnipeg's quality of life. Each inductee has a likeness sculpted and prominently displayed at the Citizens Hall of Fame site in Assiniboine Park.
For further information, contact Peter Squire at 786-8854.
To learn more about the Citizens Hall of Fame program and its 38 inductees,
please visit: www.winnipegfame.ca