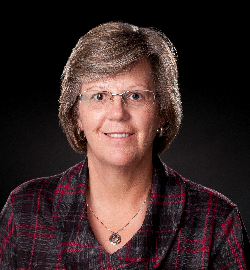 Winnipeg – WinnipegREALTORS® is pleased to introduce and welcome Shirley Przybyl as its 2012 and 109 th president of the 1600 member strong association. She takes over the helm from outgoing president Ralph Fyfe.
"I look forward to another solid year of real estate activity where our REALTORS® continue to set the bar high in terms of meeting the needs of discerning buyers and sellers," said incoming president Shirley Przybyl. "As a very committed and active volunteer within the association by serving on and chairing numerous committees over a number of years, I know how important our association's role is in continually improving its efforts to provide our members with the tools and support they require to be the best they can be in delivering great value to their customers and clients."
Active in real estate for 19 years, 10 as a broker, Przybyl is the broker manager of record for Century 21 Bachman & Associates. Her educational background in business administration with a major in accounting serves her well in her current position as manager of an office with over 70 REALTORS®. It is one of the busiest offices in the city with many experienced and top performing REALTORS®. Shirley knows full well about performing at a high level as she has received many MLS® medallion and Centurion awards when she was an active salesperson with Century 21.
Przybyl is very much a hands on and pragmatic individual who has the industry's best intentions in mind. She is always looking at ways to add or improve on what has been done before. Of course, this means she challenges herself as much as anyone to set an example for others to follow.
"I really enjoy the dynamism of our industry and the opportunity it presents people like me to get involved and give back," said Przybyl. "One thing I am most proud of in the last few years is how our association is becoming more active in the community through supporting the Manitoba Real Estate Association Shelter Foundation, Take Pride Winnipeg and raising over $1.6 million for the Canadian Museum for Human Rights."
WinnipegREALTORS® has put together a very strong team of 12 directors to lead and guide the long standing REALTOR® association through another year filled with challenges and opportunities.
The 2012 WinnipegREALTORS® Board of Directors are as follows:
Shirley Przybyl, President Century 21 Bachman & Associates
Richard Dettman, President-Elect Cornerstone Properties Inc.
David Powell, Treasurer Powell Property Group
Ralph Fyfe, Past President Century 21 Bachman & Associates
Roger Burns, SDEC Chair Century 21 Bachman & Associates
Winn Adair Sutton Group – Kilkenny Real Estate
Tom Derrett Colliers International
Stewart Elston Realty Executives Premiere
Claudette Griffin L.J. Baron Realty
David MacKenzie Sigmar MacKenzie Real Estate Services Ltd.
Peter Redekopp Coldwell Banker Preferred Real Estate
Sheldon Zamick Sutton Group – Kilkenny Real Estate
Established in 1903, WinnipegREALTORS® is a professional association representing over 1,600 real estate brokers, salespeople, appraisers, and financial members active in the Greater Winnipeg Area real estate market. Its REALTOR® members adhere to a strict code of ethics and share a state-of-the-art Multiple Listing Service® (MLS®) designed exclusively for REALTORS®. WinnipegREALTORS® serves its members by promoting the benefits of an organized real estate profession. REALTOR®, MLS® and Multiple Listing Service® are trademarks owned and controlled by the Canadian Real Estate Association and are used under licence.
For further information, contact Peter Squire at 786-8854.